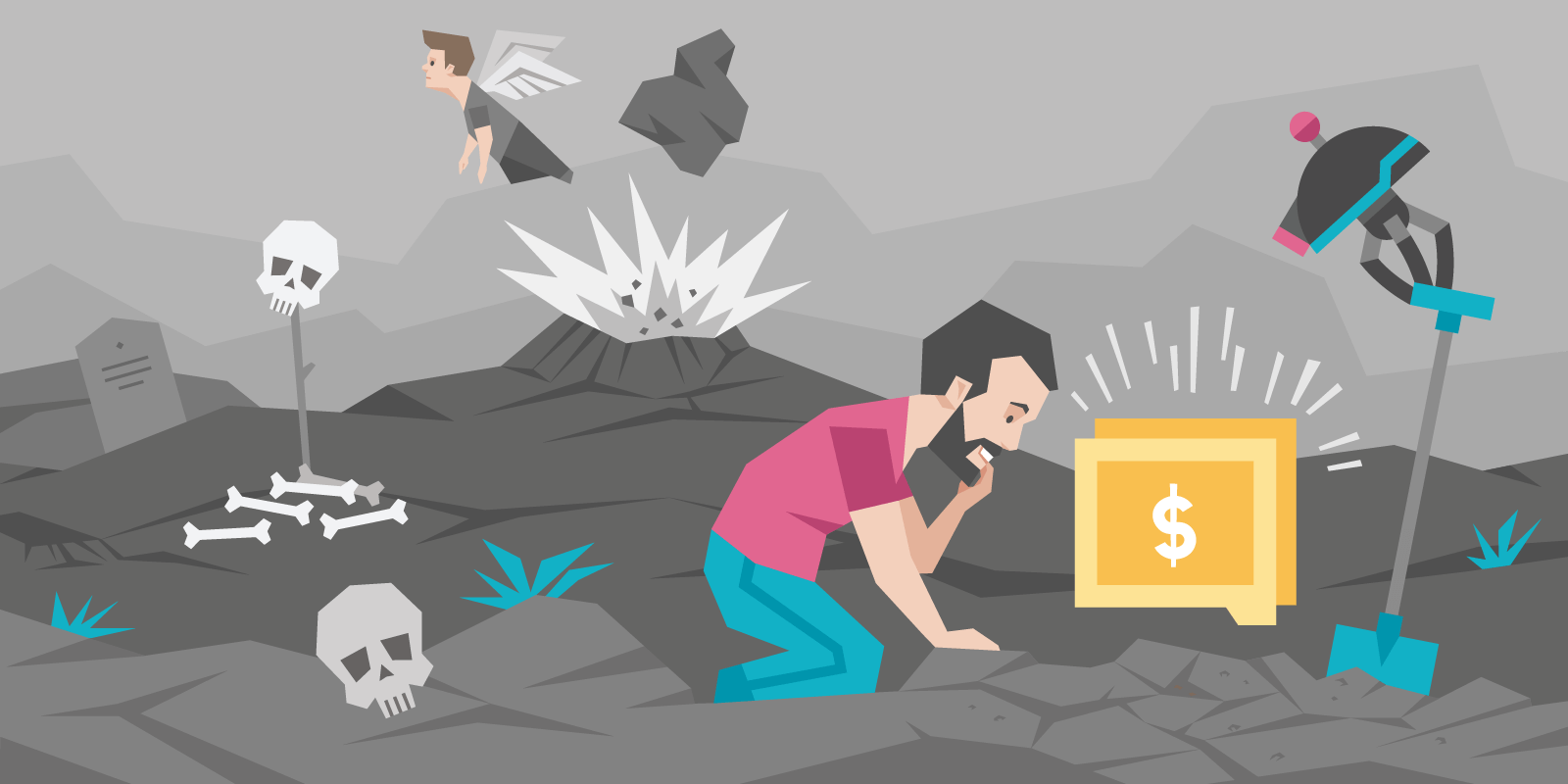 Top 11 Google Analytics Reports You Should Look at And Why
Google Analytics will help you measure how users interact with your website. Keeping a constant check on your data is crucial to learn where major changes must be made.
---
Day 4: How to turn a minefield of data into a gold mine
"You can't manage what you can't measure", management thinker Peter Drucker said.
Strategizing and brainstorming are all great, but to REALLY grow your business, you need to measure and look at real-world data.
A lot of small online businesses shy away from this because jumping into the world of analytics can feel like tiptoeing through a minefield. But the truth is,  if you know where to look, you don't need to be a data scientist to get your ROI-boosting insights.
This post will look at the best tools you can use to finally understand your data.
---
Enter Google Analytics

Google Analytics (GA) is the most widely adopted and cheapest (FREE!) way for you to measure how users interact with your website.
Setting it up is easy, you don't even need a developer. Here's a great step by step guide if you're not already using it.
Many log into their GA accounts and start sweating bullets, overwhelmed by the amount of tabs, charts, tables and numbers. We want to make sure you turn the time you spend here into gold.
The most important thing you need to know is how to look at your dashboard. Look at it as a funnel:
Audience (who your visitors are) + Acquisition (how you get people to your site) > Behavior (what these people do on your site) > Conversion (how you convert them into customers)
Google's own Analytics advocate Louis Gray says "Your data will tell a story that you can take action on". As with any story it's important that you look at it in its entirety… or you risk missing out on important bits of information.
---
Here's the most useful sections you need to look at in GA, with links for you to dig deeper. This is the 20% effort that will give you 80% of the results. Make sure you're tracking this data and checking it at least quarterly (if not monthly or even weekly):
First, create segments that reflect your target audience (example: you might sell to agencies and to business owners. You can create two separate segments based on which landing pages your visitors see. Then you can use these segments to look at your data specifically for each of them.). Everything that follows can be viewed using segments.
Mobile – Overview: here you can get data on how many users visit your website from mobile, desktop or tablet. "Devices" will tell you exactly which phone or computer they use. Use this data to compare conversions across devices and know what to focus on.
Technology – Browser & OS: similar to the "Device" report, but here you'll get data on how different browsers and Operating Systems perform. Bonus: add the "Operating System" secondary dimension to the report to compare.
Your funnel
Channels: see exactly how your traffic is split between different sources (social media, organic, referral, paid etc.)
All traffic – source/medium: this report will show you where your traffic is coming from dividing it by source (website, i.e. Facebook) and medium (channel, i.e. referral)
Search console – queries: if you've linked your Google Search Console account, here you'll see exactly what keywords visitors used to find you on Google.
Behavior flow: together with a Hotjar heatmap, this visual representation of how people move through the site, can give you ideas for improving your navigation flow.
Site content – All pages, Landing pages: use the "All pages" report to get data (Pageviews, Bounce rate, Exit rate, Avg. time on page) on how users interact with your content. Use the "Landing pages" report to specifically look at the pages users land on.
Site search – search terms: if your site includes a search function (typical for ecommerce or content websites), by enabling Site search in GA and looking at this report, you'll know what words visitors search for and consequently, you'll be able to optimize your site to help them find what they need.
Events – Top events, Pages: once you've created an Event (more on these below), here you'll be able to see which ones have been fired the most (Top events) and on which pages (Pages).
Multi-channel funnels – Time lag, Path length, Top conversion paths: if you create Goals (see below), you're in the top 20% of business people using Analytics. With these reports, you'll be able to see how many days it takes your visitors to convert (Time lag), how many pages they need to visit before converting (Path length) and the various touch points people use to convert, and which converts the most (Top conversion paths). These lead us to…
---
A special mention to Events and Goals.

Let's define them:
Events are user interactions with your site. You can create these in Google Tag Manager as Tags. They can be anything from a click, to a video view or a form submission.
Goals represent your conversions and can be associated with Events (or other factors like the page a user visits, how long a user stays on your site, or the number of pages they visit).
Here's a great in depth guide on Event tracking, showing you step by step how to create and track some of the quickest and most useful Events to trigger: Page scroll depth, Link clicks, Form submission and more.
I know, it's a lot to unpack and process. But keep in mind if you take one day to set this up, you'll start getting data you can use to make smarter decisions, reduce risk and increase your ROI for the life of your business.
Your homework:
Start doing this today. Follow this step by step guide to set up Google Analytics (if you're not already using it). Come back here when you're done, and familiarize yourself with the reports we mentioned.
When you're ready, you'll be able to use them to improve your website and increase conversions without any outside help!