How to automate testimonials and social proof
I've watched 1000s of user testing videos since building Conversion Crimes and found there are a few key patterns across all sites in the reasons why or why not a user will convert.
One of the main reasons a visitor doesn't convert into a buyer is a lack of trust and social proof.
This was actually happening at Conversion Crimes on our own website! 😱
When I launched Conversion Crimes in September 2020 we had just one video testimonial from our very first customer. While we had a successful Product Hunt launch and landed #1 for the day – conversions mostly came from demo calls. The website barely converted on its own.
We ran a user test to find out what was going on… only to discover people didn't trust our social proof!?! They even said it was fake (it wasn't).
Two truths I've seen played out over 1000s of testing videos.
🔪 The lack of or unbelievable testimonials is a conversion killer.
💳 Relevant and believable social proof increases motivation to buy.
I started asking testers what they would do before purchasing if it wasn't a test and they wanted the item (on or off the site).
What I found out is that many are skeptical about the authenticity of reviews. They go to verify them. They want links. They want information from third-party sites. They trust video reviews and reviews with photos more (even if they don't watch the videos and just read the text testimonials). It's good to have a mix of review types. Text, video, and social media posts or third-party site reviews that can be verified with a link.
For my agency, we recorded interviews in person and had testimonials professionally edited. It was time-consuming & rarely done. I don't know about you guys, but as an early-stage start-up founder, I don't have a lot of time. I want it won and done.
A process that is automated & effortless to continuously build testimonials over time – not just be a one-time project.
I'm inspired by the endless page of testimonials that KlientBoost has and I want something like that eventually.
Reviews are what drive sales, it helps build trust.
It doesn't matter how you execute the process, it just matters that you create a process for getting great reviews from customers.
Here's How I automated testimonials for my business.
Step One: Determine how you need to gather testimonials.
I have a two-sided marketplace & various products that are radically different from each other. Curating specific testimonials in the right places would be the key to conversions for me. I needed to segment them somehow so I choose Testimonial.to because they had spaces, little silos I could build testimonials in. I wish that I could also tag testimonials and have them grouped in other ways, but one can only hope for such a feature. 🤓

Step Two: Automate the process of testimonial gathering & publishing.
I'm using https://testimonial.to because it's the easiest (I've gathered 52 testimonials in the last few months!) and the price is reasonable for the value you receive.
However, you can also set up and use a lot of other services ranging from free to $$$$. The best alternative to Testimonial is Video Ask.
Their free version should be enough to collect videos and you can manually link and add them to the site. Result Story, a done for you service, edits down to the best bits from an interview. Case Study Buddy if you have the budget for a kickass premium service.
With Testimonial.to you start out by creating spaces. So I have one for each product.
These are groupings of testimonials. I made one for each side of my marketplace – Testers & Core Product Customers. Then I made one for my main productized service, Expert Insights and one for Scout, our lead magnet.
– Testers
– Scout
– Conversion Crimes
– Expert Insights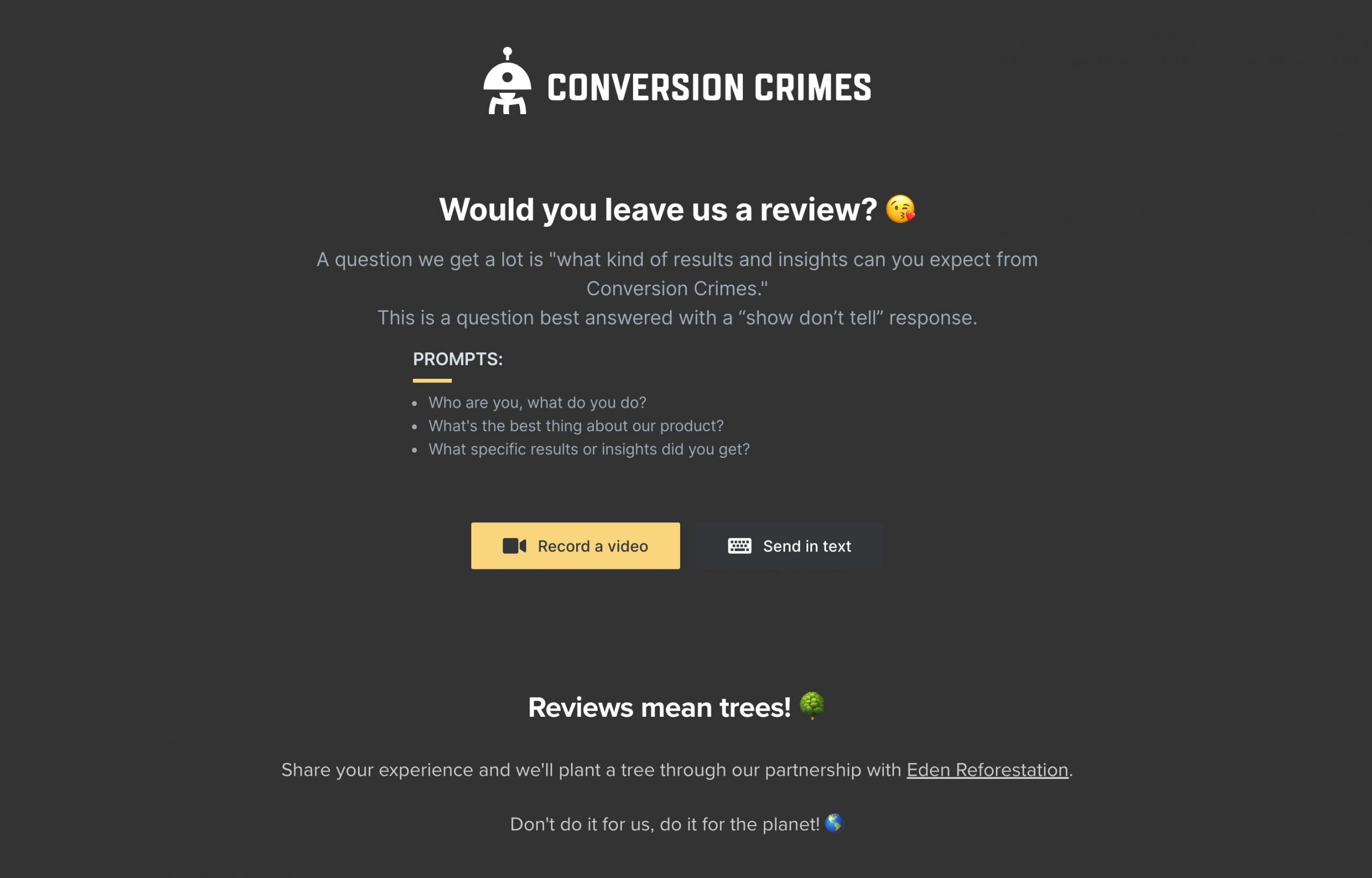 Then, I had to set up landing pages to gather them from customers. To incentivize customers to rate testing videos on our platform we plant a tree through our partnership with Eden Reforestation. I decided to plant a tree for every review also because trees are awesome.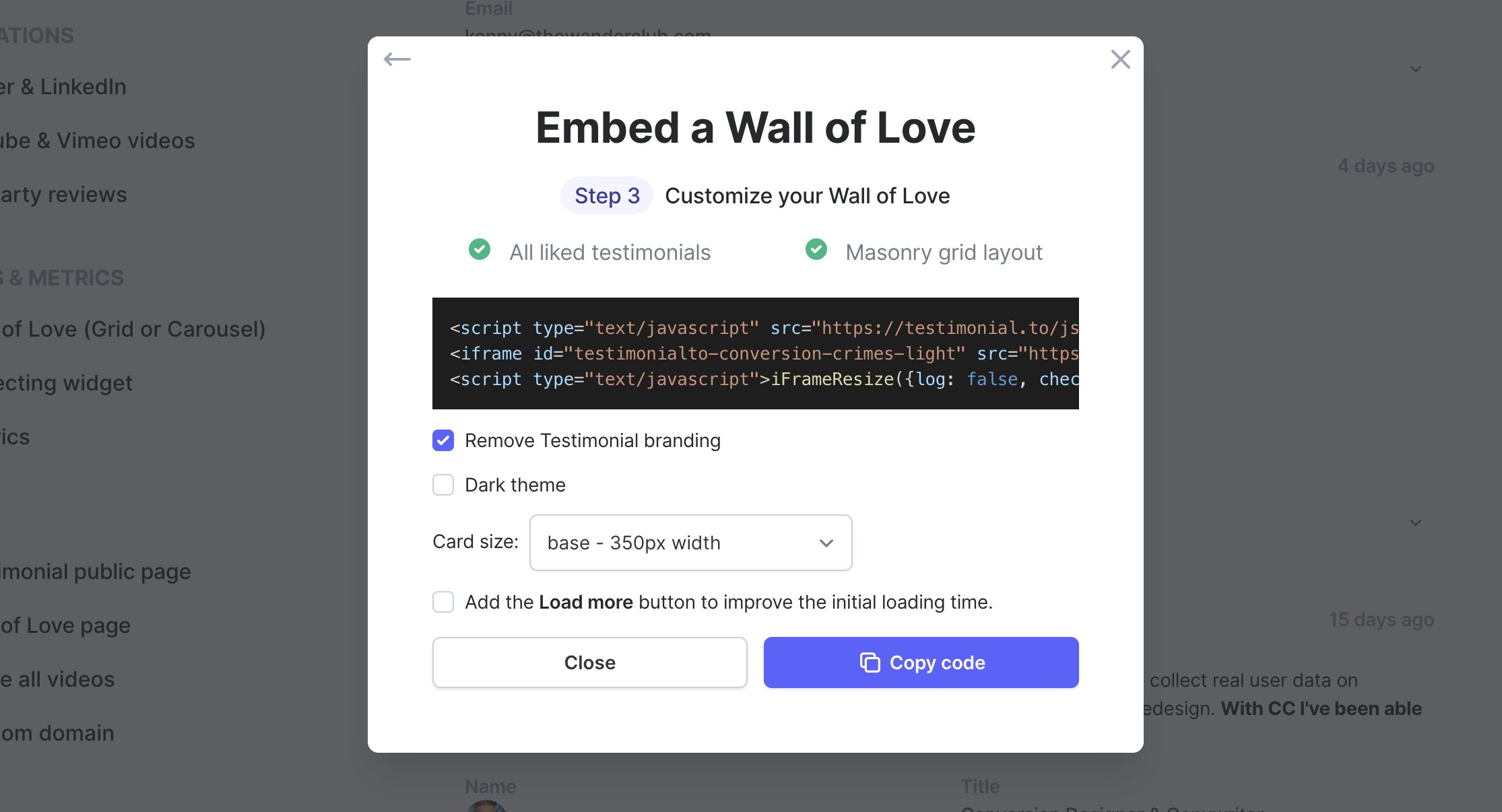 On every page I wanted testimonials to show up, I picked which group of testimonials I wanted to appear and copied the code. So my Scout page has Scout testimonials, Expert Insights has expert testimonials and so forth.
I pasted the code snippet to the landing page in the appropriate place.
Done.
Step Three: Manually engage with past customers.
Reach out to past customers to reengage the conversation. If they respond with something awesome about using the product, ask for a testimonial and send over your link making it super easy for them to do.

Rather than do them all at once, I'm pacing my way through them week by week.
The positive side effect from this, is it also caught some past customers at the right time and created sales!
Step Four: Automate Testimonial Gathering
People want to sing praises about companies and products they love.
Let's make it easy for them to do so, by placing links to our testimonial gathering page EVERYWHERE.
Plus we won't need to do manual outreach moving forward – unless we want to!
I'm still working to integrate this into my sequences and transactional emails. But here's where I'm at!
Add to the footer on all transactional emails.
Rewardful does a great job of this.

Explicitly ask for testimonials in follow-up sequences
Since our customers get both immediate results and results that show up after a few months from us – we wanted to capture both.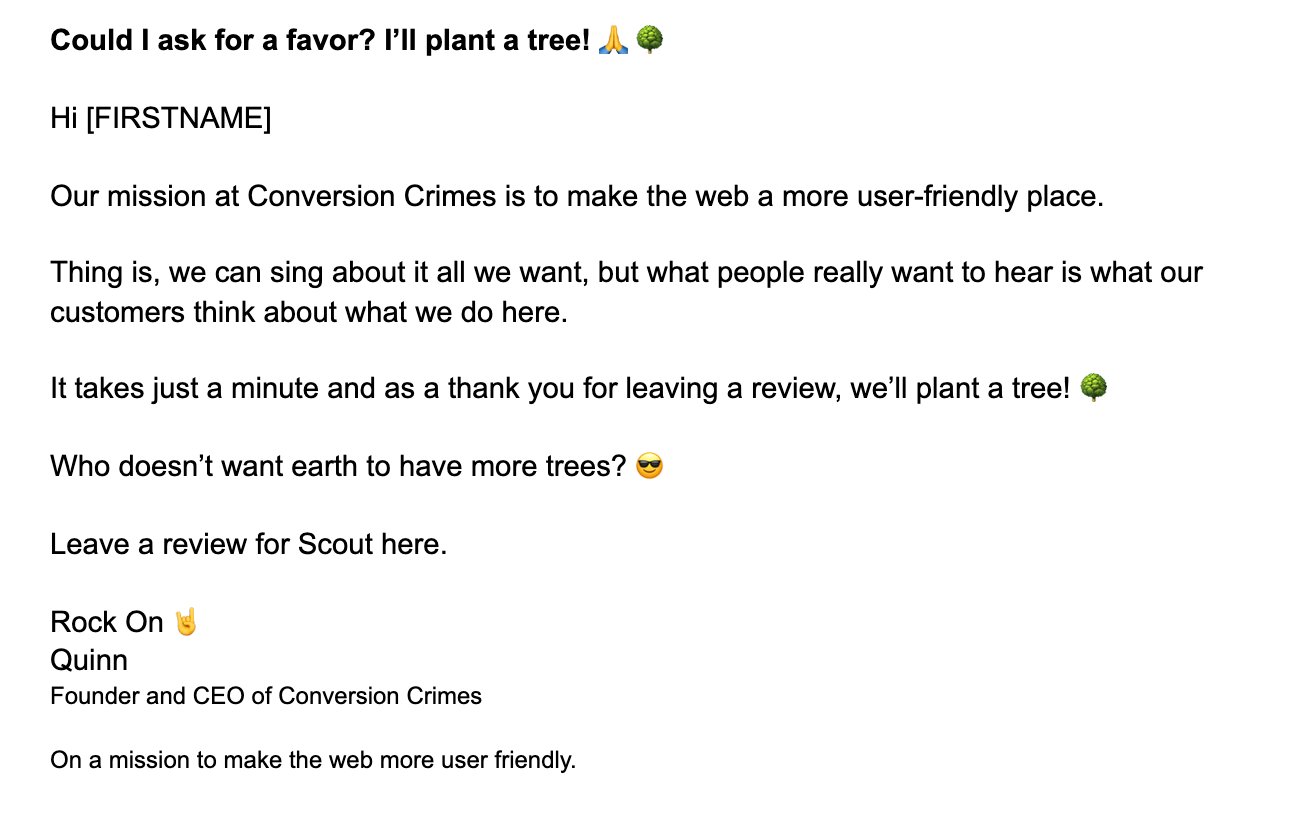 First Ask: 3 DAYS after results received.
Second Ask: 3 MONTHS after results received
Place your link in relevant places inside your software and/or on your website.
Where on your website or store would be appropriate to add a link to your testimonial gathering landing page?
For my testers, I placed it in the sidebar on their dashboard.
Step Five: Approve testimonials as they come in and add them to your site.
With Testimonial.To you get an email every time you get a new testimonial. When you heart them, they are automagically updated on the website making this super painless.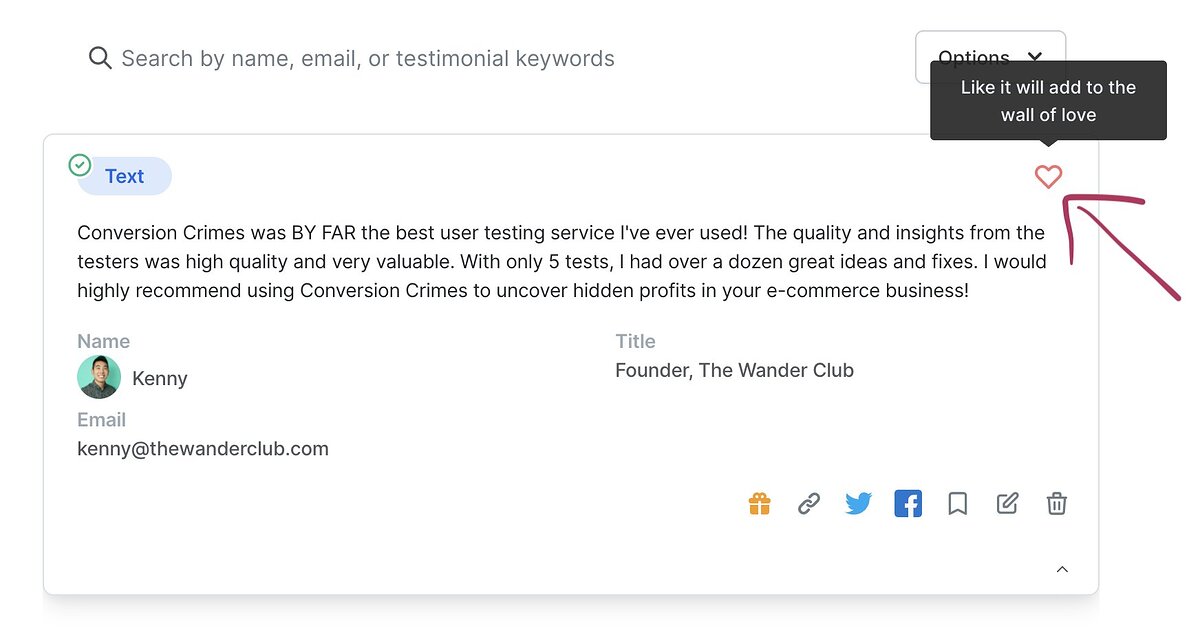 You end up with a sweet wall of testimonials like this. You can even add reviews you've gathered from other places like Twitter, LinkedIn, G2, and YouTube. In once place!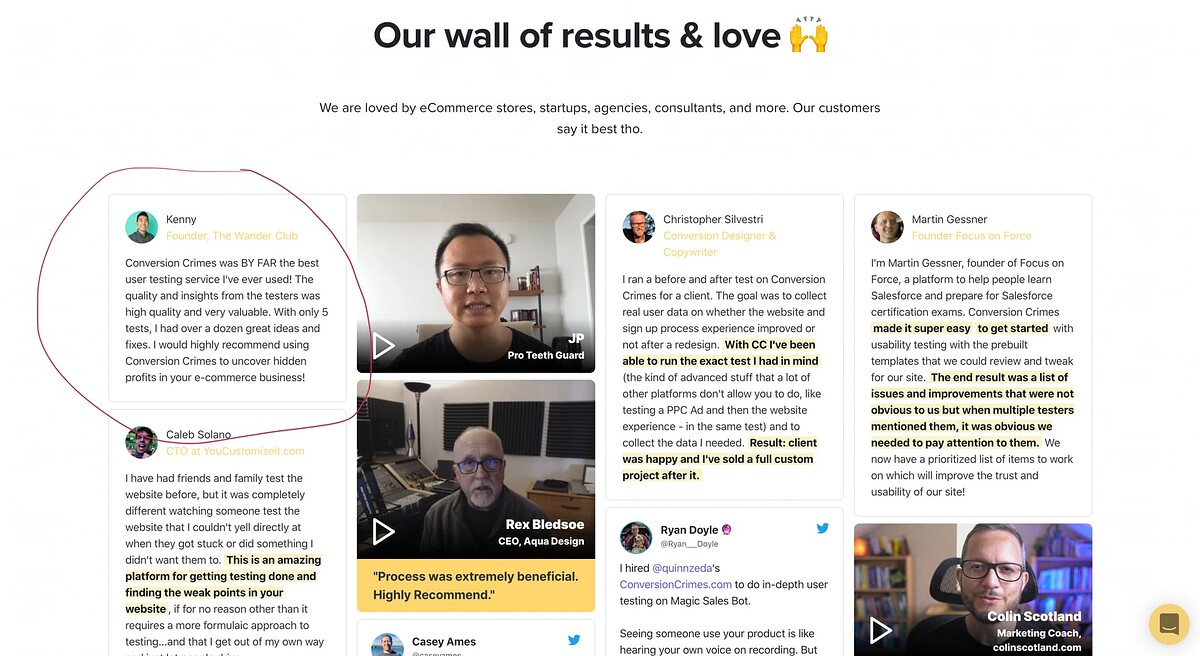 The results
Once I began building social proof on my website with testimonials sales happened without demo calls and website conversions increased.
This can be such a big task for businesses, but it doesn't have to be. Take a day to set it up, then put it on autopilot. It'll be worth it.